The Trustees of Stewart's and Budgen's Almshouses administer two groups of almshouses in Egham, six in Pooley Green road and five in Manor Farm Lane, behind the Parish Church.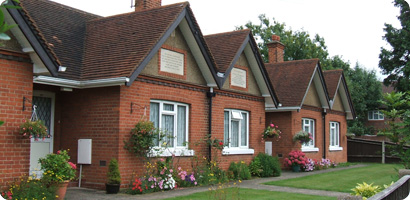 The history of the properties spans many years, and in the case of those now in Manor Farm Lane, it can be traced as far back as 1627. Both groups of Almshouse have been re-built on more than one occasion, the ones in Pooley Green in 1925 and the ones in central Egham in 1999. They are delightful dwellings, each maintained to a high standard, inside and out.
The properties are available for single women or widows of pensionable age, who are long-standing residents of Egham, Egham Hythe, Stroude, Virginia Water or Englefield Green. Ladies applying to live in the Almshouses should not own their own property and should be eligible for Housing Benefit.
Summary of Policies and Procedures for Appointing Residents to the Almshouses
1. Eligibility
The Trust deed provides that residents should be single, divorced or widowed women....who have been inhabitants of Egham, Englefield Green,Hythe, Stroude or Virginia Water for not less than 20 years.... and who from age, ill-health, misadventure or infirmity are in housing need.
The Trustees look for women, within that broad definition, who are at or about pensionable age and eligible for Housing Benefit. They apply the individual criteria with flexibility in any case where they have difficulty in identifying women who precisely fit all criteria.
2. Applications for accommodation
The Trustees advertise widely locally on Council noticeboards, liaise with the Housing Department at Runnymede Borough Council and publicise vacancies through its many community contacts. Interested people should contact the Secretary.
3. Determining priority between applicants
Eligibility is verified by the Trustees at interviews with each applicant, held both at the vacant almshouse and at the applicant's own home. Where claims are equal, the Trust deed provides that preference shall be given to those who have been longest resident in the area of benefit.

We currently have no vacancies
Vacancies occur from time to time and are advertised in the press, with the Housing department of Runnymede Borough Council and at locations throughout the area.
If you know of someone who might be interested in a vacancy should one occur, please contact the Secretary on:
Email: eghamunitedcharity@outlook.com

Egham United Charity
c/o Gladstone House
77 – 79 High Street
Egham
Surrey
TW20 9HY

Please note that post is currently taking longer than usual to reach us. Where possible we advise using email instead.